Contest Rules
1. Each year we have two running contests:
Winter Monthly — Jan, Feb, Mar, Apr
Summer Monthly — May, Jun, Jul, Aug
In case of a tie, either for an individual month or for the overall winter or summer contests, the earliest date caught determines the winner.
2. Fish must be caught legally by a club member or family member (family membership) in good standing with hook and line, meeting Florida size requirements. Also, the fish cannot be caught on a charter boat unless that boat is owned by a club member.
3. Fish must be taken in the following geographical area:
Longitudinal line 81 05.00 (North-South) through Cape Sable, East to Card Sound bridge and the North side of US 1. Southern edge of Vaca Key to the West Humps of Marathon out 50 KM (includes West Hump) Whistle Buoy off Ocean Reef (North Boundary of Pennekamp Park) out 50 km.
4. Contest is by length. Measure fish in accordance with Florida fishing regulations (total or fork), round up to the nearest 1/8 inch. Total length is the straight line distance from the most forward part of the head, with the mouth closed, to the furthest tip of the tail compressed or squeezed together while the fish is lying on its side.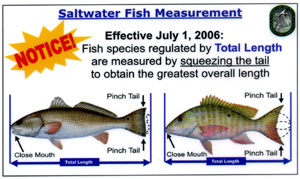 5. E-mail a picture and information for your entry to: Red Henson bosnred@hotmail.com and Darla Applegarth applegarthdarla@yahoo.com along with cc to Amy Jorgenson at amyjorgenson@icloud.com to be posted on the website. Be sure to include the following information:
Fish Category
Fish Length
Date Caught
Angler's Name
Boat & Captain's Name
All entries must be submitted with a photo in jpg format. Please make sure you are in the photo with your catch.
Merchandise prizes are awarded for monthly and overall winners. Awards will be presented at the membership meeting following the end of each contest. Winners will be expected to have a story of "How and Where".